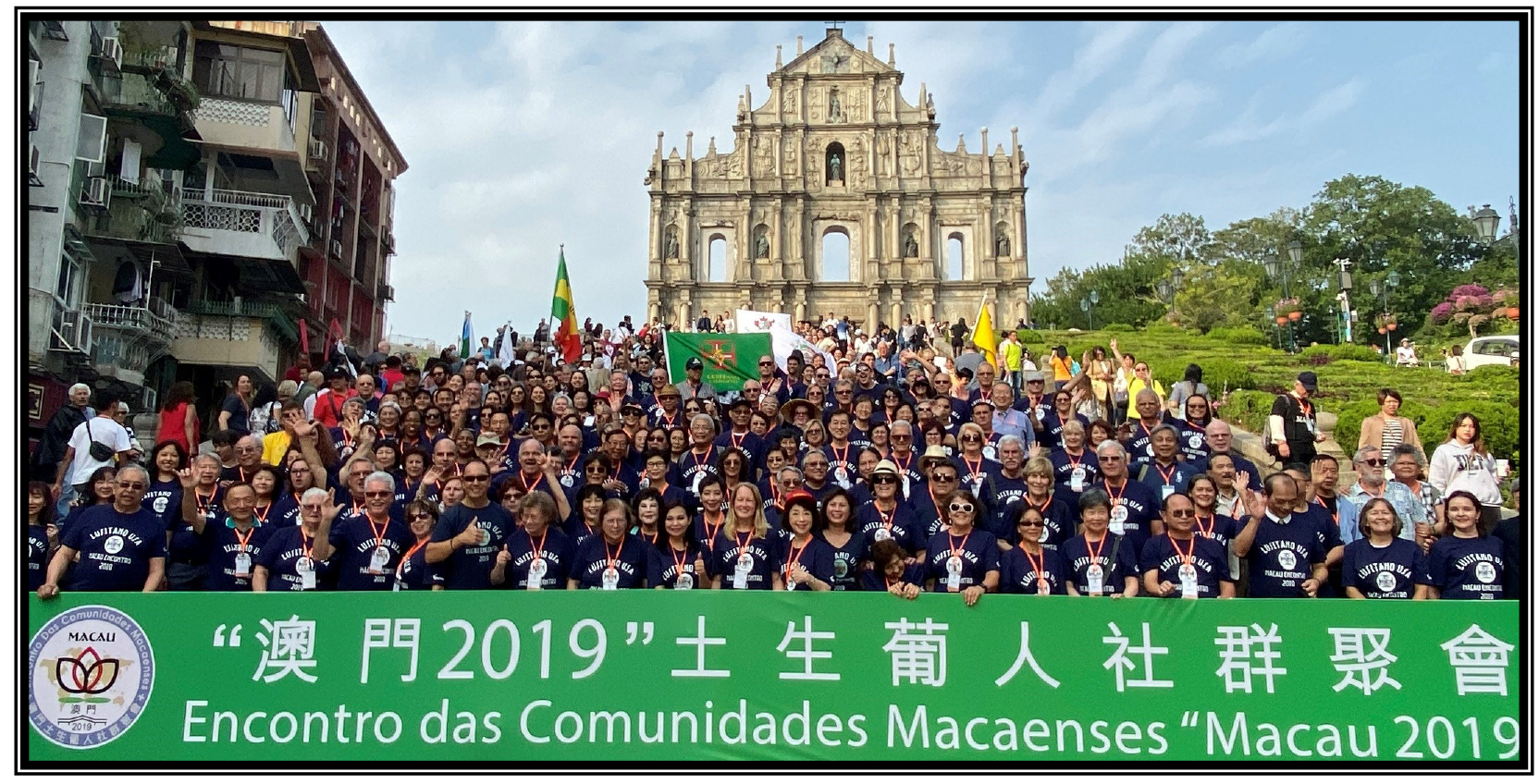 On November 23rd, our Lusitano group of 240 members finally arrived in Macau for our long anticipated triennial weeklong event, Encontro das Comunidades Macaenses, the tenth Encontro since 1993. A fabulous welcome reception with an array of Macanese dishes was served at the Jardim de Infância D. José da Costa Nunes where we were able to meet many new and old friends from the thirtheen Casas de Macau worldwide and taste all the delicious Macanese savories and sweets.
The next morning some of our club representatives and members were able to attend a very informative 3-hour conference hosted by the International Institute of Macau (IIM) at the Macau Science Center. Topics covered at the conference included many interesting subjects such as the Hong Kong Museum of History appeal, a digital project on Patuá, the Greater Bay Area of the Pearl River Delta, several new book launches, and finally the 2019 Identity Award to Architects Carlos and Victor Marreiros along with Certificates of Recognition to all the Casas for their collaboration. A Certificate of Merit was also awarded to Maria Roliz for her outstanding work on behalf of Macau and her most productive collaboration with the International Institute. An afternoon conference on Macanese Gastronomy followed after a lunch break filled with delicious Macanese eateries. (A 161-minute long clip of this conference can be viewed on YouTube under "Macau Macaenses Encontro 24.11.2019").
That evening marked the official Opening Ceremony of the Encontro where a fabulous banquet was served at the Sheraton Grand Macau Hotel in Cotai. It was a party enjoyed by the over 1500 attendees from around the world with exceptional local music entertainment. During the week, a guided visit of Macau was offered and a beautiful Portuguese mass officiated by the Bishop of Macau was held at the Sé Cathedral. A Macanese cooking contest was also held amongst the contestants of the worldwide Casas and we are so proud of Ken Harper and his assistant Marie Mennell for having won 3rd prize for Lusitano. (See our Macanese Cuisine page for Ken's winning recipes.) Our young artists from San Francisco also held a Macanese Inspired Art Exhibition entitled "MAE MACAU" organized by SF Arts Commissioner Suzie Ferras. Good job to all, it was a grand success!
Other events during the week included a meeting for club representatives, a reception at the residence of the Consul General of Portugal in Macau SAR, and a wreath laying ceremony attended by all Casa Presidents at the Monument to the Macanese Diaspora. As an added bonus (for the second Encontro in a row) a 2-day guided all meals included overnight trip to Foshan China at the 5-star Intercontinental Hotel was made by invitation of the China Macau Liaison Office. The all-inclusive trip was offered at a subsidized cost of US$100 per person, a minor fraction of the total cost.
Foshan (aka Fat San, a sister city to Oakland, California) is a prefecture level city in central Guangdong province. With an area encompassing approximately 1500 square miles, it currently has an urban population of around 7.5 million. With its 3000 plus electronic appliance factories, it is responsible for the production of over half of the world's air conditioners and refrigerators, and specializes in the production of furniture, machinery and beverages. Foshan also holds the distinct honor of being the hometown of one of China's most universally recognized icons, the legendary late Bruce Lee! Kung fu runs deep in the heart of Foshan and the city is the birthplace of two other kung fu icons Ip Man (Bruce Lee's master) as well as Wong Fei Hung. The Wing Chun style of kung fu was developed here. Literally translated as 'Buddha Hill', the city of Foshan has a rich past and has been famous for thousands of years for its ceramics, Chinese opera, martial arts and lion dancing.
For the 5 full coach loads of us that took advantage of this side trip across the Macau border to mainland China, it was a most enjoyable and outstanding visit. Only accolades and praises were heard. The scenery was breathtaking and food was sumptuous! We hope these mainland China excursions during the Encontro week in Macau will continue to take place at future Encontros and it will be interesting to see the location selected for the next 2022 Macau Encontro.
To end the wonderful weeklong activities, on November 29th the Closing Ceremony of the Encontro was held at the Macau Tower. Another sumptuous banquet was served with great local music. A fabulous time was had by everyone and we bid farewell to our friends and adieus to our beloved Macau.
A big THANK YOU is owed to the Macau SAR government for the millions spent on this Encontro, the Conselho Comunidades Macaenses, and all those involved in hosting and organizing another very successful and memorable Encontro. Muitissimo obrigado querido Macau. Até a próxima!
(A 47-minute clip of the weeklong Encontro by TDM Macau can be viewed on YouTube under "O Sabor do Encontro").