Prawns Piri-Piri (Hot Chili Prawns)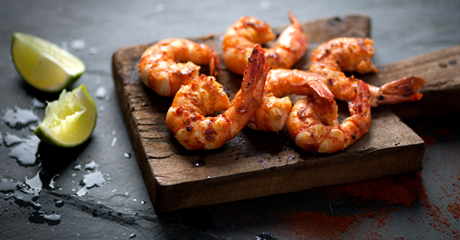 18 large prawns (6 inches in length)
1 cup chili peppers (red cayenne peppers)
½ cup garlic cloves
½ cup butter
5 bay leaves
¼ cup brandy
½ cup vegetable oil
Paprika to taste
Salt to taste
Cut off legs from the prawns, split the back of the shells without cutting them in half.
Chop the chilies, garlic and bay leaves, mixing them with the oil and butter. When the butter dissolves and the ingredients well infused, transfer the mixture to a blender and grind for a few minutes until it is puréed to a smooth paste.
Stuff and marinate the prawns with the chili puree, leave for an hour or so, then fry them in a pan and serve hot.
Recipe by at http://www.lusitanousa.org/heritage-and-culture/macanese-cuisine/prawns-piri-piri/