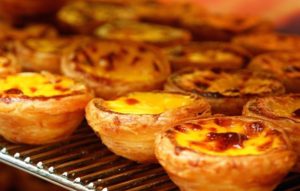 If you talk about food to someone who has been in Macau, you'll immediately hear about custard tarts, that they are wonderfully delicious. Some families have secret recipes that they won't reveal, but we have a recipe for you to try.
Pasteis de Nata
Ingredients
3 tablespoons cornstarch
½ vanilla bean
1 cup white sugar
1 cup milk
6 egg yolks
1 (17.5 ounce) package frozen puff pastry, thawed
Instructions
Preheat oven to 375°F (190°C). Lightly grease 12 muffin cups and line bottom and sides with puff pastry.
In a saucepan, combine milk, cornstarch, sugar and vanilla. Cook, stirring constantly, until mixture thickens. Place egg yolks in a medium bowl. Slowly whisk ½ cup of hot milk mixture into egg yolks. Gradually add egg yolk mixture back to remaining milk mixture, whisking constantly. Cook, stirring constantly, for 5 mins, or until thickened. Remove vanilla bean.
Fill pastry-lined muffin cups with mixture and bake in preheated oven for 20 mins, or until crust is golden brown and filling is lightly browned on top.