Sorry – this event cancelled due to the COVID-19 Shelter In Place Health Order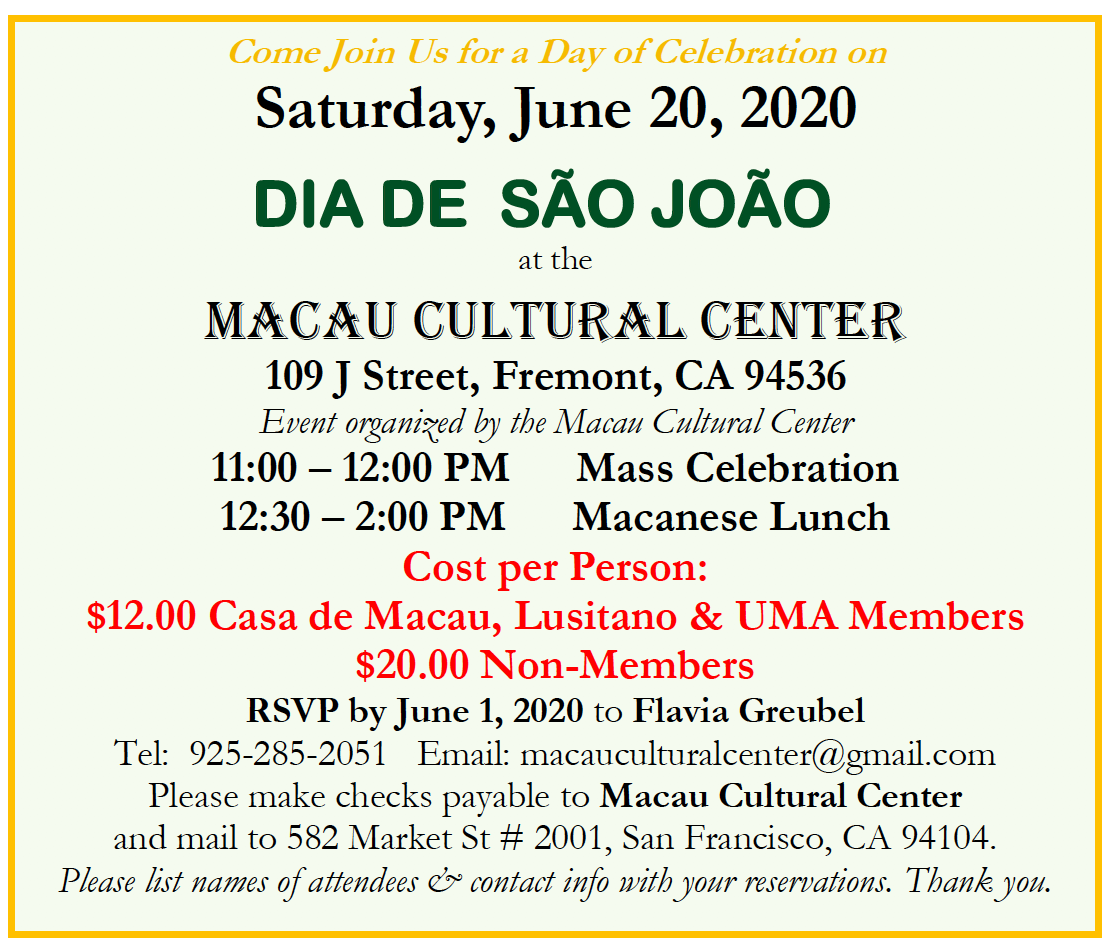 June 24th is the official Feast Day of St John the Baptist which is celebrated in a variety of different ways around the world.

In Portugal especially in Porto it is one of Portugal's most vibrant celebrations with São João being the patron saint of Porto. The official party starts on the evening of June 23rd with fireworks and street parties, stalls and fun and games.
Traditions range from launching hot air balloons into the sky and hitting plastic hammers on the heads of passers-by, to waving garlic in people's faces, jumping bonfires and offering friends and relatives potted basil plants decorated with traditional poems. It's a time to get together with friends and family; or take a walk through the streets towards the spectacle of the best firework display in town.
However, in Macau it is celebrated a little differently. There is no hitting of plastic hammers or garlic flowers, instead it is celebrated with a special mass and partaking of our Macanese desserts and sweets and all varieties of tropical fruits, especially lychees based from old Macau with t heir fruitful gardens.

So why is Dia de São João so important to us, Macanese.

As the legend goes; St. John the Baptist was looking after us, as he did on that fateful day back on June 24th 1622 when the Battle of Macau was fought between the Dutch and the Portuguese in Macau with 1300 Dutch against no more than 300 Portuguese soldiers and Macaenses volunteers. A mighty Dutch fleet was spotted in the waters on June 21 and tried to attack Macau, but once they landed at Praia Grande on June 24, 1622, a Jesuit priest shot from a cannon on Forteleza do Monte, a perfect hit that blew up a load of gunpowder in the midst of the Dutch formation with devastating results. This caught the Dutch by surprise and scared them away when the Portuguese soldiers and Macaenses volunteers started running down the hill to counter attack them. With this much celebrated victory on June 24 after a 3-day battle, the Portuguese attributed this to the intervention of "São João" who's Feast Day it was "Dia de São João" the 24th of June, and has been celebrated in Macau ever since, and also known as "Macau Day".