This dish is one of the gastronomic delights of Algarve. Although for many years it remained unused and almost became extinct, the Cataplana pan has been revived in this region of Portugal. In the past the pan was made of zinc or hammered iron. Today it is made of copper. It was used primarily by hunters who cooked their game in these pans over an open fire built on the ground. This pan is also used in Beira Baixa with the name "Prussiana", a name which is sometimes also used in Algarve.
Jean Anderson, a cookbook author wrote that the Portuguese from Alentejo – Alentejanos combined pork with shellfish (pork is forbidden by Jewish and Moorish dietary laws) " . . . in a single dish dates back, it has been said, to one of the darker chapters of Iberian history – The Inquisition. Ameijoas na Cataplana together with a number of pork-shellfish combinations, were invented as a sort of double whammy to test one's Christian zeal (pork and shellfish being proscribed to both Jews and Moslems)." The term New Christians was given to both Muslims and Jews who were converted to Christianity. Many Jews, expelled by Spanish King Ferdinand and Queen Isabella in 1492, went across the border to Portugal. Those who wished to remain were coerced to denounce their religion and convert to Christianity in 1497; some converted voluntarily. It was believed that many of the Jewish converts practiced their original religion in secret. These were known as Crypto-Jews. In 1772, Marquis de Pombal issued a decree abolishing the legal distinction between the New Christians and the Old Christians.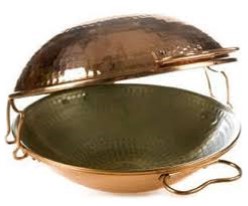 The Cataplana pan is used to cook the dish only; the sauce is made in a separate pan. The seal of the pan allows the steam to build up and is ideal for cooking clams and mussels. This dish can also be cooked in Dutch oven with a tight-fitting lid or even a Chinese wok directly over hot coals in a round Webber BBQ. Remember to remove wok from the coals as soon as cooking is finished. Serve from wok pouring the sauce over the clams. In this way I have cooked this dish for the annual clambakes of the Lusitano Club of California since the mid-1980s. As Portuguese chouriço is not available in California and lighter in taste from the linguiça available here, I have added smoked ham and bacon to the recipe. Roasted red peppers and other ingredients are also part of my modifications making this recipe very different from those in the restaurants of Algarve.
The clams can be served with saffron rice fried with green peas and diced pork or a light ham with deep-fried browned shallots over. The rice accompaniment is not part of this traditional Portuguese dish.

Ameijoas Na Cataplana - Algarve (Clams in the Cataplana Pan)
Author:
Traditional Portuguese Dish Modified by António M. Jorge da Silva
Ingredients
60 lbs Manila or small cherrystone clams (10-12 pcs per lb)
1 cup Portuguese olive oil
3 tbsp garlic, finely chopped
4 medium onions, finely chopped
1 cup smoked ham, diced ¼"
¼ cup bacon, fat removed
2 cups Portuguese linguiça, peeled and diced ¼"
1 ½ tbsp. hot paprika
1 tbsp cumin
½ cup chili flakes + 1 tsp cayenne pepper
2 red bell peppers, roasted, peeled and diced ¼"
4 Serrano chilies, seeded and finely chopped
1cup parsley chopped
3 cups dry white wine
4 qt shellfish stock (see recipe for stock next page)
Instructions
Finely chop the onions and the garlic. Set aside.
Chop the parsley and set aside in a separate bowl.
Thoroughly rinse the clams before cooking.
Heat 1-cup olive oil in a pan then add the onion and the garlic. Fry over medium heat until they are soft.
Add the diced meat (linguiça and ham) then stir to fry for a minute or two then.
Add the peppers then the spices. (Do not add more chili flakes* for the first course). Continue to cook for another 5 minutes to blend the flavors.
Add ½ bottle dry white wine. Raise the pan about 8 inches from the heat and leave it to simmer until reduced 50%. Return the pan over the fire.
Add the stock, bring to the boil over high heat then add the clams. Cover and cook until all the clams are open – approx. 10-12 minutes (depending on the heat of the fire).
Serve each portion of clams. Ladle sauce over the clams and add a pinch of chopped parsley.
Serve with French baguette.
Notes
1. If not used immediately, keep clams in lower section of the refrigerator. Before cooking, thoroughly rinse the clams.
2. Set the wok (used here instead of a Cataplana pan – a special pan, shaped like a Chinese wok but with a lid attached) in a raised position over a wood fire.
3. Cook the clams in 2 batches so divide the ingredients into 2 portions, using one per batch.