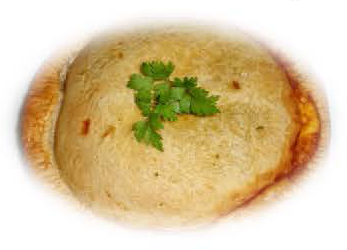 Pastelinhas de Carne (Macao Holiday Hand Pies)
Utensils: Scale, sifter, mixing bowls, bowls to separate eggs, measuring spoons and cups, pastry cutter, rolling pin, parchment covered baking trays.
Ingredients
PASTRY:
21.5 oz. All-Purpose Flour
1 teaspoon Baking Powder
5 oz. Powdered Sugar
11 oz. Lard
5 Egg Yolks
1 Whole egg
½ tsp salt stirred and dissolved in 3 oz. of Brandy
FILLING:
2 Tablespoons Olive Oil
2 Minced Shallots
2 Cloves of Minced Garlic
1 Teaspoon Turmeric
1 Teaspoon Ground Cumin
1 Teaspoon Ground Coriander 1 Teaspoon Pepper
½ Teaspoon Salt
1 lb. Beef
1 Tablespoon Thick Soy
4 Sprigs of Green Onions chopped
½ Cup Slivered Almonds
½ Cup Shredded Parmesan or Asiago or Sao Jorge Cheese
⅓ Cup diced Green Olives
Instructions
PASTRY: In a large mixing bowl sift together Flour, Baking Powder and Sugar. Swirl the dry ingredients a few times with your (dry) hand to make sure everything is well mixed. Add the lard and massage into the dough until it feels like wet sand. Make a mound with the dry ingredients and make a little indentation in the center where you will add the eggs and salt and brandy and begin massaging and kneading the ingredients into a soft dough. (5 min). Place the dough covered in a bowl in the refrigerator for one hour to rest.
FILLING: Sauté Shallots on medium heat and when soft and translucent (5 minutes), add minced garlic and sauté until fragrant for 30 seconds. Add Turmeric, Cumin, and Coriander, Pepper and Salt stir for 20 seconds then add beef and sauté for 7 minutes at medium heat until beef. Add salt and pepper and thick soy and sauté for another 5 minutes. Turn heat off and add Green Onions, Almonds, Cheese and Olives. Place in a mixing bowl.
MAKING THE PIE: Using a rolling pin, roll out the dough into ¼-inch thickness and cut 3-inch discs of dough. Taking one disc in your hand place a heaping tablespoon of filling in the center, then taking another disc of dough and cover over the filling and use your free hand to pinch closed the two sides. Continue making as many pies until you run out of dough or filling. Place the hand pies on a parchment covered baking sheet and bake for 20-25 minutes at 350 degrees F.
Notes
Leftover dough can be used to decorate the tops; leftover filling can be served over rice! Alternatively, you can make one or two large pies, instead of small hand pies, in which case, it is called Empada de Carne, adjust baking time accordingly.